Oil Starting to Reverse and Overall Markets Today Pulling Back and Seeing This As a Potential Opportunity To Look at SD - Sandridge Energy!
This Stock Has Broken Out Past Her 100ma Resistance and Now Pulling Back to Strong Support at the 20ma-50ma Area
Watch SD for a Potential Entry on This Sweet Breakout Chart!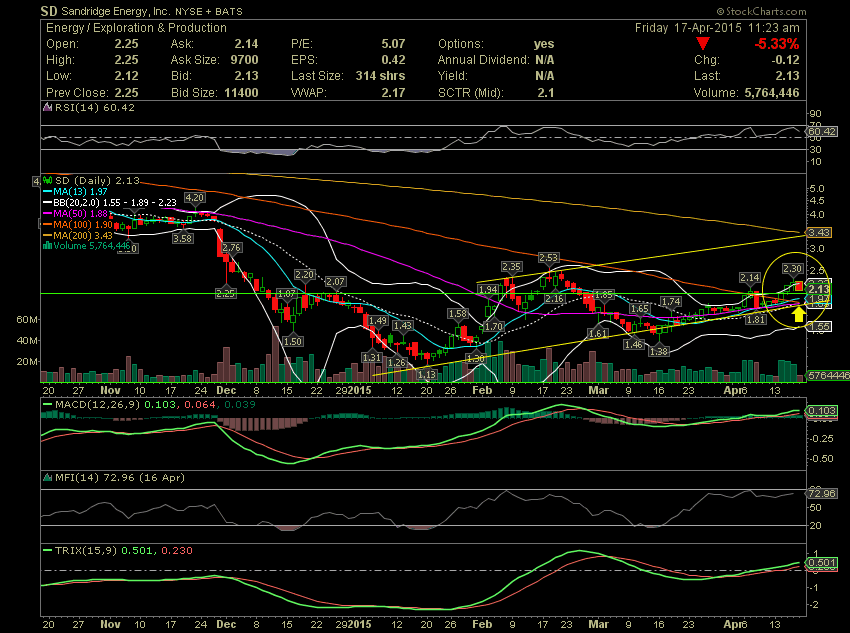 About SandRidge Energy, Inc.
SandRidge Energy is an oil and natural gas company headquartered in Oklahoma City, Oklahoma with its principle focus on exploration and production activities in the Mid-Continent region of the United States. SandRidge and its subsidiaries also own and operate gas gathering and processing facilities, saltwater disposal and electrical infrastructure facilities and conduct marketing operations. In addition, Lariat Services, Inc., a wholly-owned subsidiary of SandRidge, owns and operates a drilling rig and related oil field services business.
Our focus extends beyond energy production and into our communities, where we dedicate our time, talents and resources to the places we call home.